French President Macron address joint session of US Congress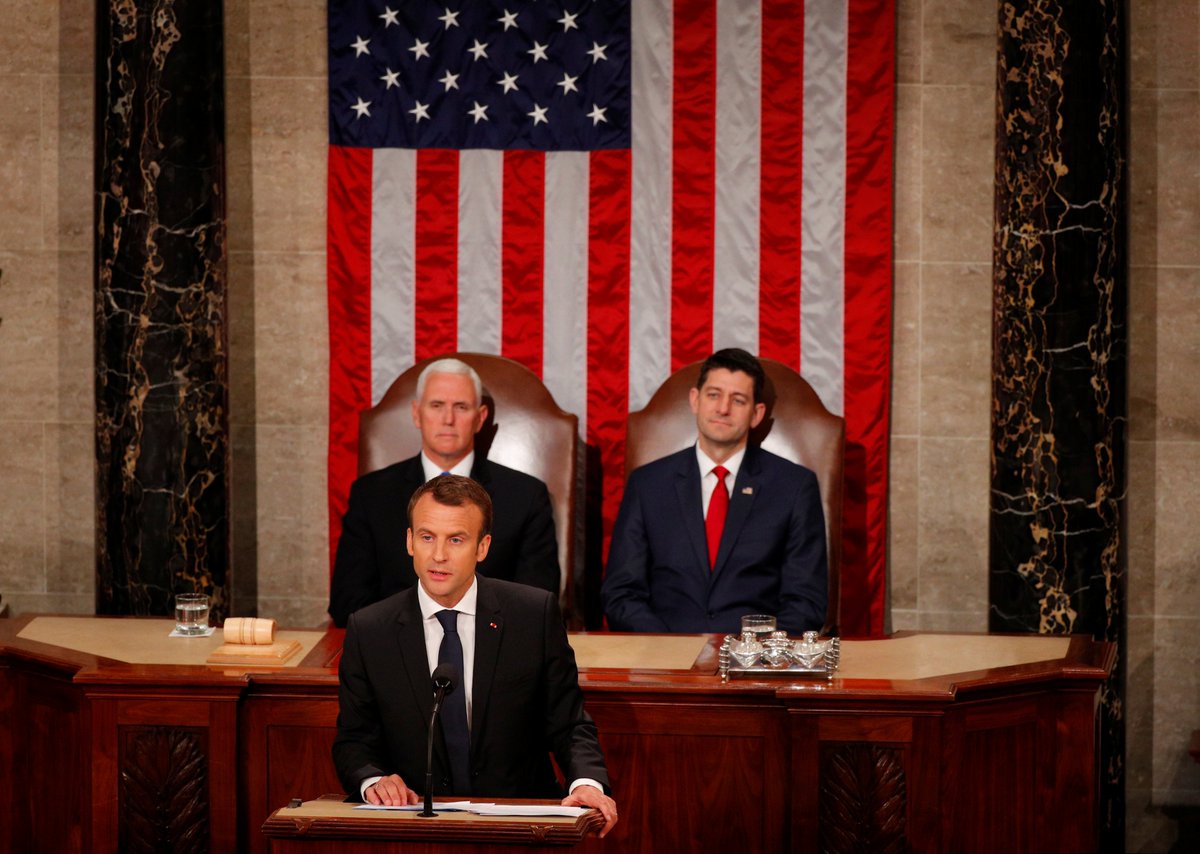 President Macron arrives in US Congress to address the joint sesssion of US Congress in Washington today as he arrives in US Congresz he is welcomed by Senates with standing ovation and continous claps .
Macron said We with common democratic norms I am pleased to be here in sacred place of democracy such is this Great values of we togther share the common heritage the design of French and our shared history is common paths we have treads.
This is united us in I WW and then in WWII later with radicals. We have fought many wars togther.
France is an important partner of US in scientific research copoeration in medical and other sectirs. We have created many millions of jobs both side of the two nation..We are fighting togther in Syria and other places to estbalish unit for common principle.
France and US work for strenthen and unity of EU important partner of NATO.
we both nation are very unique and important as we cherished common values of civility democracy liberty and has solution to all problem with science education in center.I believe we can provide liberty and freedom to our citizen to pursue their life with happiness. I believe we can offer safety to our people from digital disruption from the Facebook etc.I believe we can give best trust to middle income people.We have faith to live better and work together to give jobs and employment for people with planet to be only and lovely.I believe in democracy to continue to preserve perennial values for the next generation to fight fake news to demolish to preserve our democracy.
In order to mitigate carbon dioxide from the planet earth, Macron said I am sure US will come back to Paris Agreement on climate make jointly Darling Earth..in this process creating opportunities employment in large number for both nation jointly. "There is no planet B" – we have to make this earth beautiful habitable for our generation.
Macron reminded in his address we are jointly fighting wars in Syria, Iraq and war in Yemen continues.Two nation has to fight pitched battle with radicals their terror and the nuke power should not fall in hands of terrorist. He reminds of France UK and US strike to bring humanity from the chemical attack.
Macron advocated multilateralism, which his U.S. counterpart Donald Trump has not been quite a fan.
"We can choose isolationism, withdrawal and nationalism. This is an option. It can be tempting to us as a temporary remedy to our fears," he said. "But closing the door to the world will not stop the evolution of the world. It will not douse, but inflame the fears of our citizens."
"I'm convinced that if we decide to open our eyes wider, we will be stronger, we will overcome the dangers, we will not let the rampaging work of extreme nationalism shake a world full of hopes for greater prosperity," he said.
"It is a critical moment. If we do not act with urgency as a global community, I am convinced that the international institutions, including the United Nations and NATO, will no longer be able to exercise a mandate and stabilizing influence," he added.
Macron promoted what he called "a new breed of multilateralism."
Macron has said, Paris will not leave the 2015 Iran nuclear deal and pushed for a comprehensive agreement with Tehran to address US concerns. He further added that One day US will come back to Paris agreement.
In his joint address to the US Congress, Mr Macron said, there is an existing framework called the Joint Comprehensive Plan of Action (JCPOA) to control the nuclear activity of Iran. He said, both US and France have signed the action plan at the initiative of Washington.
The French President said, the 2015 agreement may not address all and important concerns, but it should not be abandoned without having something substantial instead. He said, the objective on Iran is clear that it shall never possess any nuclear weapons.
Macron defended globalization against nationalism. "I believe in the power of intelligently regulated market economies. We are experiencing the positive impact of our current economic globalization, with innovations, with jobs creations," he said. "We see, however, the abuses of globalized capitalism and digital disruptions."He urged "the opposite of massive deregulation and extreme nationalism" to counter these challenges. "Commercial war is not the proper answer to this evolution," he said. "A commercial war … is not consistent with our mission, with our history, with our current commitments for the global security. At the end of the day, it will destroy jobs, increase prices and the middle class will have to pay for it."
He believed that the two nations can build the right answers to Trump's concerns regarding trade imbalances, excesses and overcapacities by negotiating through the World Trade Organization and building cooperative solutions."We wrote these rules. We should follow them," said the French leader.