Mithun Perera ends winless streak at Chennai Open 2018, posts tenacious 70 to come through; Climbs to second on PGTI Order of Merit
Digvijay Singh cards day's best 62 to finish joint second with Mukesh Kumar
Chennai, March 4, 2018:
Sri Lankan Mithun Perera ended a four-year winless streak with his hard-earned one-shot victory at the Rs. 30 lakh Chennai Open 2018 Golf Championship at the Madras Gymkhana Club Golf Annexe in Guindy on Sunday.
Perera, the overnight leader by three shots, came up with a tenacious even-par-70 in the final round to sign off with a winning total of 14-under-266.
Gurgaon-based Digvijay Singh posted the day's best score, a scorching eight-under-62, to finish joint runner-up at 13-under-267 along with Mukesh Kumar (66) of Mhow, the winner of the last edition of the Chennai Open.
Mithun Perera (68-63-65-70) had an unexpectedly quiet final day as he managed only two birdies and two bogeys. But the 31-year-old came through after his closest rival, good friend and compatriot N Thangaraja's (61-70-68-69) challenge faded away on the back-nine.
There was a four-shot swing against Mithun and in favour of Thanga over the first five holes that gave the latter a one-shot lead. But Perera played some solid golf that kept him on course even as Thanga made a bunch of errors to drop four shots from the 14
th
to the 16
th
. Mithun was back in the lead from the 15
th
onwards and saw it home despite a bogey on the 17
th
.
Perera, who bagged his sixth title on the PGTI, said, "I was really hungry to win and break my victory drought. This means a lot for me. My family has supported me throughout my lean phase and so have my sponsors. I thank them all for backing me through all these years.
"I had a shaky start today. But I played my normal game even after Thanga went in the lead. I kept in touch with the lead with a long birdie conversion on the ninth and a tap-in birdie on the 12
th
. I then got a little lucky when Thanga opened the door for me with that poor second shot on the 14
th
that rolled into the bunker and led to a bogey for him.
"Thereafter, my confidence was sky-high as I knew Thanga had literally given away the match after having a firm hold on it. I then just had one blemish on the 17
th
but kept my nerve to come through at the end.
"The week's been fantastic as far as my hitting is concerned. I've been accurate off the tee and with the approaches. I've also kept the errors out having dropped just three bogeys all week. It's a huge confidence-booster going ahead. I must add that I really enjoyed the conditions here at the MGC in Chennai as they were quite similar to my home town Colombo," added Mithun, who took home a cheque of Rs. 4,84,950 and thus climbed from 21
st
position to second place on the PGTI Order of Merit.
Digvijay Singh (70-66-69-62) returned a sublime 62, the best score of the day, to climb 11 places from overnight tied 13
th
to tied second. Digvijay, a former Asian Tour winner, put together an eagle and seven birdies at the cost of a bogey.
Joining Digvijay in tied second was Mukesh Kumar (66-66-69-66), who had won at the MGC on the last three occasions. Mukesh worked his way up from overnight tied fourth after making an eagle, four birdies and two bogeys on Sunday at one of his favourite venues.
N Thangaraja, who was overnight second, finished in fourth at 12-under-268 despite his heroics on the front-nine on Sunday. Thanga was four-under on the front-nine in round four and looking good for the title. But he had a disastrous back-nine where he shot a three-over and lost out to fellow Sri Lankan Mithun Perera who was also his room partner for the week.
Chennai-based rookie Shivnaren Srinivasan fired a final round of 76 to finish tied 45
th
at seven-over-287.
On Sunday, Italians will vote to elect deputies to both houses of the country's parliament for the first time since 2013. In an unusual arrangement, both the 320-seat Senate and the 650-seat Chamber of Deputies possess identical powers and are voted in using two different versions of proportional representation.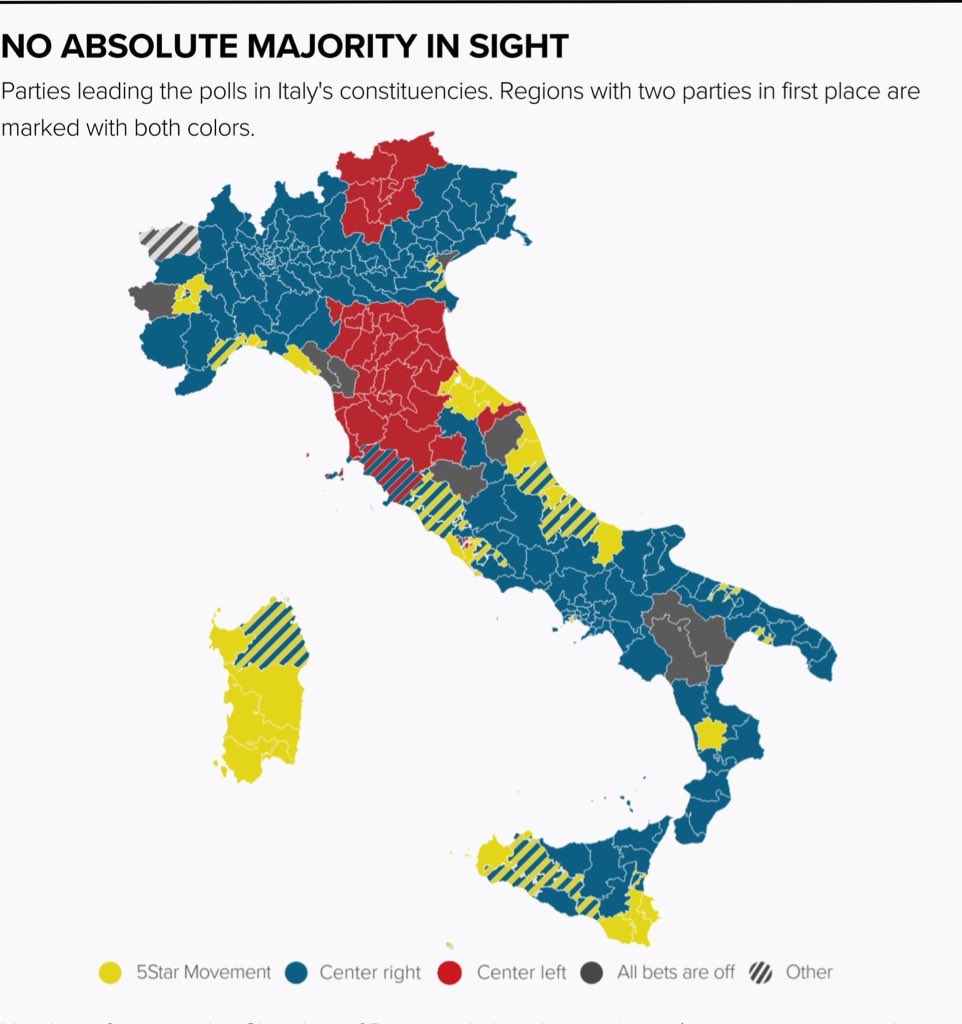 Italy goes to polls today for the general election , Total of 630 seats in the Chamber of Deputies are up on electoral battle. Voters will also choose 315 members of the Senate. General elections are held every 5 years.
The Nation has three main forces are vying to form the next government.
The center-left bloc is anchored by the ruling Democratic Party, which is led by pro-EU former Prime Minister Matteo Renzi.
The center-right bloc includes former Prime Minister Silvio Berlusconi's Forza Italia party. The 81-year-old politician is calling for major tax cuts and tighter immigration controls.
The anti-establishment 5-Star Movement, led by Luigi Di Maio, is skeptical about the EU.
An EU-skeptic government could become an additional destabilizing factor for the bloc after Britain's decision to leave it.
The latest polls suggest that the center-right is leading the race. But analysts say none of the blocs is likely to win a majority on its own. They say a hung Parliament could lead to a period of uncertainty over negotiations to form a coalition government.
Five-Star Movement has said it will not enter any coalition and it is unlikely to get an overall majority, meaning the government could be formed by the Center-Right Coalition, which is in a position to attain 38 percent of the vote. It comprises Forza Italia (15-17 percent) led by 81-year-old former prime minister Silvio Berlusconi, who remains barred from taking office until next year, and Lega Nord (14-15 percent), an anti-immigrant populist party.
Former PM and the Democratic Party leader Matteo Renzi has already cast his ballot. Among the first politicians to vote was also President Sergio Mattarella.
Meeting of European leaders regarding refugee resettlement, Swiss Justice Minister Simonetta Sommaruga said "now is the time" to reform the asylum system across the continent. European Union interior ministers met on Thursday in Sofia, Bulgaria to re-visit the couple of imperative issue of resettling thousands of refugees from conflict-torn parts of Africa and the Middle East.
Since Non-EU member Switzerland was invited to participate because it is part of the so-called Dublin agreement governing asylum policy across Europe. Sommaruga said after Thursday's meeting that the refugee situation in Europe had stabilised, with lower numbers of asylum seekers overall. She sees "willingness among many European countries to take the step" of overhauling the system and coming up with a long-term resettlement plan. But she admitted it won't be easy.
Heads of state of EU countries previously gave their interior ministers a deadline of the end of 2018 to reach an agreement on reforming the Dublin system.
Among the questions currently on the table are whether each country should receive a required number of asylum seekers to resettle. Austrian Interior Minister Herbert Kickl spoke out against the idea, as did the representative from Slovakia. German Interior Minister Thomas de Maizière supports the idea, as does Switzerland's Sommaruga.
The EU Commission also stands behind the idea of a refugee resettlement quota for each country, but the divisive nature of the proposal means it may ultimately hang on decisions made by EU countries' heads of state at a summit planned for June.
swissinfo.ch