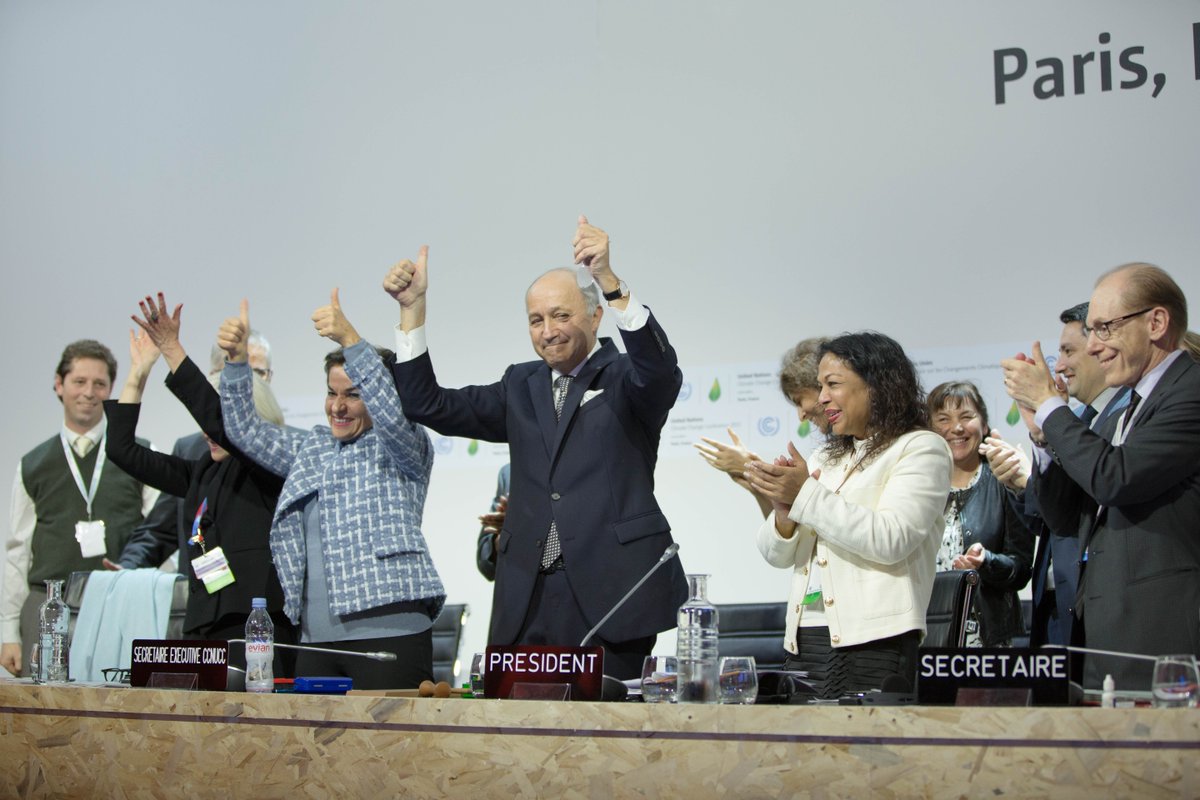 During the 21st Session of the Conference of the Parties (COP21) to the UN Framework Convention on Climate Change (UNFCCC), world leaders hammered out an agreement aimed at stabilizing the climate and avoiding the worst impacts of climate change. Event highlights from Ceres' network of business and investor leaders:
Paris Agreement
is an agreement within the framework of the
United Nations Framework Convention on Climate Change
(UNFCCC) dealing with greenhouse gases emissions mitigation, adaptation and finance starting in the year 2020. An agreement on the language of the treaty was negotiated by representatives of 195 countries at the
21st Conference of the Parties of the UNFCCC
in Paris and adopted by consensus on 12 December 2015. It was signed on 22 April 2016 (
Earth Day
) by 175 UNFCCC members, 15 of which immediately ratified it.How this agreement is to entered into force is voluntary or binding?
India has signed the historic Paris climate agreement at United Nations in New York along with more than 170 nations, marking a significant step to combat global warming.
Environment Minister Prakash Javadekar signed the agreement in the UN General Assembly hall at a high-level ceremony hosted by UN Secretary-General Ban Ki-moon last night.
The ceremony was attended by heads of governments, foreign ministers, corporate leaders and artists from across the world.
In the agreement, all countries agreed to work to limit global temperature rise to well below 2 degrees Celsius, and to strive for 1.5 degrees Celsius.
In his message on the day, UN Secretary-General Ban Ki-moon said the Paris accord, in conjunction with the Agenda for Sustainable Development, holds the power to transform the world.
While noting that the countries are signing a new covenant with the future, Ban cautioned that the world is in a race against time.
Speaking on the occasion, Mr Javadekar reiterated that India will reduce emission intensity by 35 per cent and build 40 per cent capacity for Power Generation from Non Fossil fuels.
He said, India has undertaken a huge renewable energy program of 175 GW and he is happy to announce that India have already achieved 40 GW. Mr Javadekar said that India has put a six dollar cess per tonne on coal and it is a solid action taken against carbon emission.
He said, the developed world has caused the climate change of today because of their 100 years of relentless carbon emissions.
The Minister expressed hope that collective wisdom will ultimately prevail and both developed and developing nations will do their part to address the issue of climate change.
Mr Javadekar said, the issue of climate fund continues to remain a concern and urged the developed countries to mobilize 100 billion dollar sooner and they must also take enhanced targets for 2016-2020, which is the second commitment period of the Kyoto Protocol.